Our Company
PERNIAGAAN SURIA was incorporated on 30th April 1989 by Mr Ooi Cheng Chooi as Entrepreneur. The company was converted to SURIA JERAI ELECTRICAL SDN. BHD. (645465-U) SINCE 1ST SEPTEMBER 2005.
Mr Ooi Cheng Chooi – Managing Director with at least 34 years of business trading experience locally. The greatest business success for him was to revive the company to 21 outstanding sales and services outlets in:
Kedah Branch:- Guar Chempedak, Alor Setar, Pendang, Jitra, Sungai Petani, Kulim, Kuala Ketil, Sik, Pokok Sena, Padang Serai , Baling, 
Penang Branch:-Perai , Bukit Mertajam, Alma, Farlim , Tanjung Tokong , Balik Pulau ,
Perlis and Selama, Perak with more than 220 staffs.
The Company is being formed solely for the purpose of selling & servicing electrical products with its first company named SURIA TRADING at No. 6, Main Road, Yan Kecil, 06900 Yan, Kedah since 34 years ago.
SURIA JERAI ELECTRICAL SDN. BHD.(645465-U) is a well-established company and ever since working a long way to become one of the market leaders specializing in selling well-known branded electrical products to both individuals and the corporate sector.
The well-known branded products include Samsung, Panasonic, Sharp, LG, Hitachi, Sony, Toshiba, Midea, Hisense,  Pensonic, Haier, Daikin, Gree, Delonghi, Acer, Asus, Electrolux, Cornell, Zanussi, Faber, Philips, Elba, Joven, Khind, Rubine, Alpha, Honeywell, Oppo, Huawei, Honor, Vivo and Astro with the reputable brand.
The Company selling the product through cash sales, credit sales, Hire Purchase and 0% interest instalments which offer by credit card merchants such as AEON, CIMB, Citi Bank, Maybank, HSBC, OCBC, AMBANK, Public Bank, American Express, Bank Islam, BSN, UOB, Hong Leong Bank and RHB. We also have Buy Now, Pay Later that apply using Debit Card support by ATOME and GrabPay (PayLater by Grab).
Indeed, it is our continuous plan and effort to uphold our commitment and vision to stabilise and further strengthen our company image on what we have been built on by selling quality products and delivering excellent services to fast, present and future customer.
Head Office
Guar Chempedak
No. 1, 2 & 1A-Plot 2,
Taman Mewah, 08800 Gurun,
Kedah Darul Aman.

Tel : 04-4684939 / 016-4194939
Email : b001guarchempedak@gmail.com

Operation Hour : 10am - 6.30pm
(Saturday - Thursday)
Pekan Simpang Kuala, Alor Setar
No. 11, 11A, 11B & 12A, 12B, 13, 13A, 13B, Pekan Simpang Kuala, Off Lebuhraya Sultan Abdul Halim,05400 Alor Setar, Kedah Darul Aman.

Tel : 04-7711952 / 016-4174939
Email : b02simpangkuala@gmail.com

Operation Hour : 10.30am - 9pm
(Monday - Sunday)

Jalan Ibrahim, Sungai Petani
No. 10 & 11, Jalan Ibrahim,
08000 Sungai Petani, Kedah Darul Aman.

Tel : 04-4218787 / 016-5505499
Email : sj.jalanibrahim@gmail.com

Operation Hour : 10.30am - 9pm
(Monday - Sunday)


Jalan Jubli Perak, Kangar
No. 45, 47 & 49, Jubli Perak,
01000 Kangar, Perlis.

Tel : 04-9778958 / 016-5508958
Email : kangarb04@gmail.com

Operation Hour : 10.30am - 9pm
(Monday - Sunday)

Lagenda Heights, Sungai Petani
No. 203, 204 & 205, Jalan Lagenda 7,
Lagenda Heights, 08000 Sungai Petani, Kedah Darul Aman.

Tel : 04-3054969 / 016-4189552
Email : suriajerailagendab05@gmail.com

Operation Hour : 10.30am - 9pm
(Monday - Sunday)
The Bayu, Tanjung Tokong
G-2, The Bayu, Tanjung Tokong,
10470 Penang.

Tel : 04-8996077 / 016-4196077
Email : suriajerai.b07@gmail.com

Operation Hour : 10.30am - 9pm
(Monday - Sunday)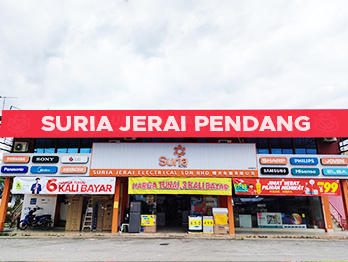 Pekan Baru Pendang
Bangunan UMNO Kedah, Tingkat Bawah, Jalan Sungai Tiang, 06700 Pendang, Kedah Darul Aman.

Tel : 04-7599188 / 016-4194959
Email : b08pendang@gmail.com

Operation Hour : 10am - 6.30pm
(Monday - Sunday)
Chai Leng Park, Butterworth
Lot No. 2976-G & 2976-2G, Ground Floor, Chai Leng Complex, Jalan Baru, Seberang Perai, 13700 Butterworth, Penang.

Tel : 04-3903898 / 016-4193452
Email : sjchailengpark@gmail.com

Operation Hour : 10.30am - 9pm
(Monday - Sunday)
Alma, Bukit Mertajam
No. 23, 25 & 27 (Ground & First Floor), Jalan Perniagaan, Pusat Perniagaan Alma, 14000 Bukit Mertajam, Penang.

Tel : 04-5521080 / 016-4195181
Email : suriaalmab11@gmail.com

Operation Hour : 10.30am - 9pm
(Monday - Sunday)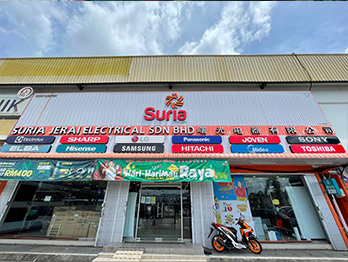 Taman Seraya Indah, Kulim
342D, Taman Seraya Indah,
09000 Kulim, Kedah Darul Aman.

Tel : 04-4944373 / 016-4172702
Email : sjkulim@gmail.com

Operation Hour : 10.30am - 9pm
(Monday - Sunday)

Pekan Jitra 2, Jitra
No. 55A & 56A, Jalan Pekan Jitra II, Pekan Jitra II, 06600 Jitra,
Kedah Darul Aman.

Tel : 04-9175757 / 016-5159088
Email : mgr.suriajitra@gmail.com

Operation Hour : 10.30am - 9pm
(Monday - Sunday)
Taman Ria, Padang Serai
No. 2017 & 2018, Lorong Ria 9/7,
Taman Ria Padang Serai, 09400 padang Serai, Kedah Darul Aman.

Tel : 04-4850926 / 016-4222017
Email : padangseraib16@gmail.com

Operation Hour : 10.30am - 9pm
(Monday - Sunday)
Sunway Wellesley, Bukit Mertajam
No. 12-B & 15, Precint 1, Sunway Wellesley, Jalan Muthu Palaniappan, 14000 Bukit Mertajam, Penang.

Tel : 04-5404882 / 016-5268535
Email : sjsunwaywellesleyb17@gmail.com

Operation Hour : 10.30am - 9pm
(Monday - Sunday)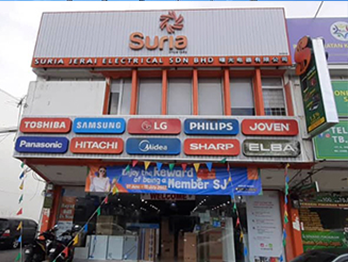 Mergong, Alor Setar
107-A & B, Jalan Seberang Putra, Kawasan Perusahaan Mergong F2, 05150 Alor Setar, Kedah Darul Aman.

Tel : 04-7007703 / 013-5772017
Email : suriamergong@gmail.com

Operation Hour : 10.30am - 9pm
(Monday - Sunday)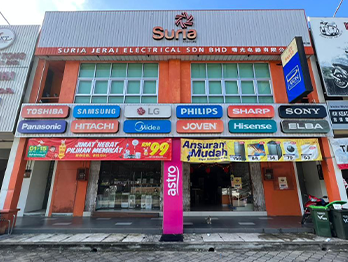 Kuala Ketil, Sungai Petani
No. 60 & 61, Persiaran KKCC 2, 09300 Kuala Ketil, Kedah Darul Aman.

Tel : 04-4162626 / 016-4165952
Email : suriajeraib19@gmail.com

Operation Hour : 10.30am - 9pm
(Monday - Sunday)

Sik, Pekan Sik
No. 227 & 228, Jalan Tunku Ibrahim, Pekan Sik, 08200 Sik, Kedah Darul Aman.

Tel : 04-4692172 / 016-4180520
Email : suriajeraisik@gmail.com

Operation Hour : 10am - 6.30pm
(Saturday - Thursday)

Pokok Sena
No. 12-GF, 12-1, 13-GF, 13-1, Jalan Sena Sentral 1, Kompleks Perniagaan Sena Sentral, 06400 Pokok Sena, Kedah Darul Aman.

Tel : 04-7823268 / 012-4984969
Email : suriajeraib21@gmail.com

Operation Hour : 10.30am - 9am
(Monday - Thursday)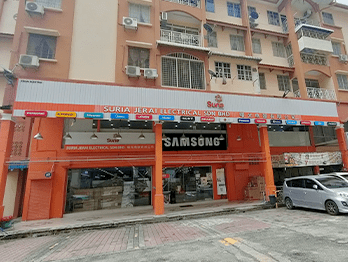 Farlim
No. 288C-1, 288C-1-2, 288C-2-1 & 288C-2-2, Fortune Count, Jalan Thean Teik, 11500 Bandar Baru Ayer Itam, Penang.

Tel : 04-8260103 / 012-7584969
Email : suriafarlim@gmail.com

Operation Hour : 10.30am - 9pm
(Monday - Thursday)
Balik Pulau
8-G & 8-1, 10G & 10-1, 12-1, Jalan Sungai Rusa, 11000 Balik Pulau, Penang.

Tel : 04-8692482 / 012-3794969
Email : b23suriabalikpulau@gmail.com

Operation Hour : 10.30am - 9pm
(Monday - Sunday)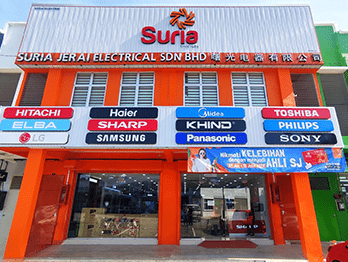 Selama, Perak
No. 8 & 9 (Tingkat Bawah & Atas), Persiaran Ixora, Pusat Perniagaan Ixora, 34100 Selama, Perak.

Tel : 04-8393864 / 013-6509089
Email : b24selama@gmail.com

Operation Hour : 10.30am - 9pm
(Monday - Sunday)
Taman Serai Wangi, Padang Serai
No. 2359AB, 2360AB & 2361AB, Lorong Serai Wangi 1/10, Taman Serai Wangi, 09400 Padang Serai, Kedah Darul Aman.

Tel : 04-4853386/ 012-4667478
Email : b25padangserai@gmail.com

Operation Hour : 10.30am - 9pm
(Monday - Sunday)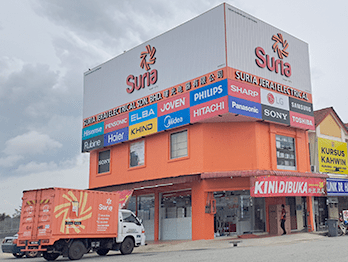 Baling
No 131 A & B Persiaran Kota 5/5, Kota Baling Jaya, Bt42, Pulai, 09100 Baling, Kedah.

Tel : 04-4705570 / 019-9495594
Email : b26baling@gmail.com

Operation Hour : 10.30am - 9pm
(Monday - Sunday)