DESCRIPTION
Wear it well, don't wear it out. DelicateCare system wool and silk cycles carefully tailor temperature and motion settings so that you can dare to dry even your most delicate items. The quality of these unique fabrics are preserved, with no shrinkage and no shape-loss.*
---
FEATURES
Drum and Interior Finish: Stainless Steel
Eco-friendly Certification(s): Energy Efficiency (MELS) – 5 ticks
---
OVERVIEW
NO SHRINKAGE, NO SHAPE LOSS*
DelicateCare system wool and silk cycles carefully control temperature and motion settings so that each cycle is tailored to the unique properties of these delicate fabrics. Wools are kept flat against the drum's surface and silks are gently air-dried. The quality of your clothes preserved for longer protecting against shrinkage and shape-loss*.
GENTLE DRYING WITH HALF THE ENERGY CONSUMPTION*
Heat pump technology puts less damaging heat stress on your fabrics by drying effectively at lower temperatures to keep them looking and feeling new for longer. Exceptional performance with up to 50% less energy usage than traditional machines.*
UP TO 32% LESS WRINKLES*
Alternating clockwise and anti-clockwise drum movements prevent clothes from tangling, resulting in up to 32% less wrinkles compared to air drying*. Less creases means less need for high temperature ironing, so fabrics stay looking new for longer.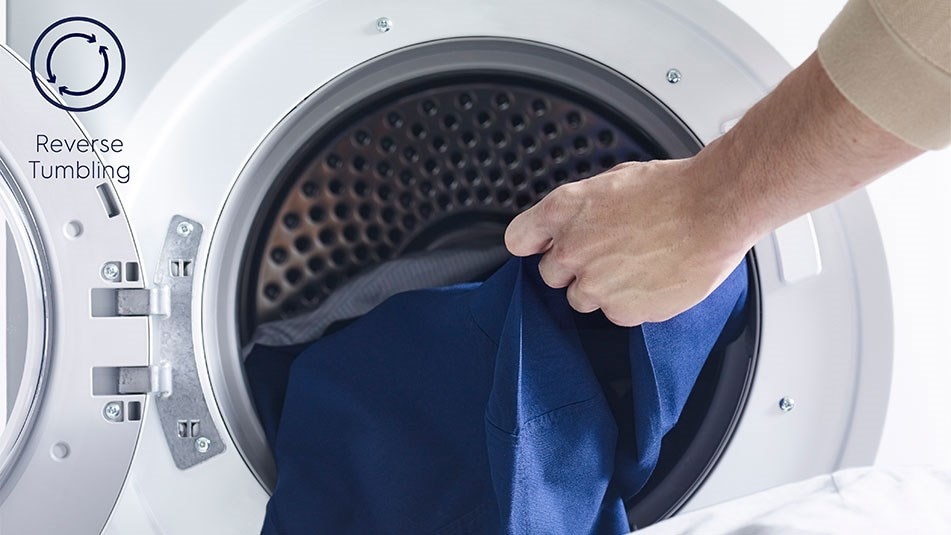 QUIET, DURABLE, AND MORE EFFICIENT
The Inverter motor reduces vibration to deliver quiet, reliable, and more energy efficient drying. With no compromise on performance.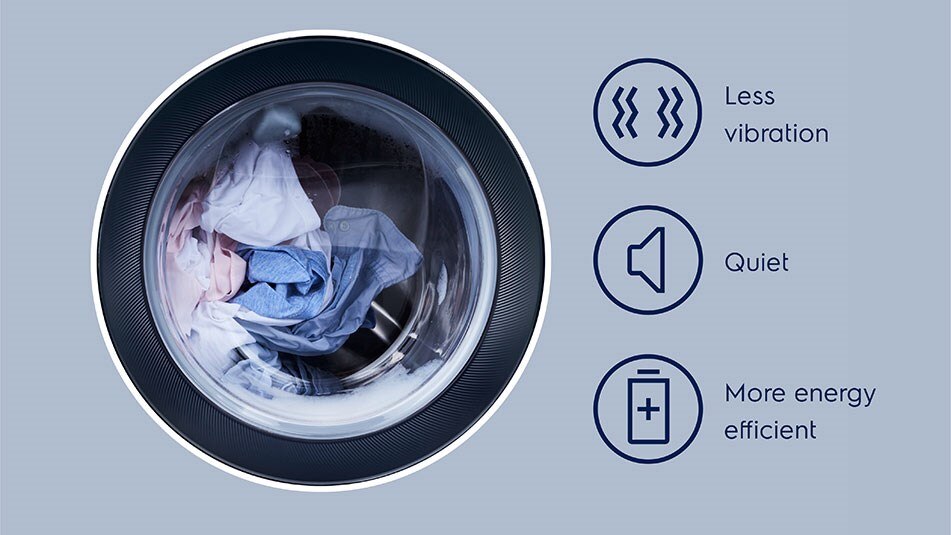 CARE FOR WOOL, THE EASY WAY
Safely dry your treasured woollen garments in our Woolmark approved cycle. This programme is proven to care for tumble-dryer safe woollens with optimum cleaning drying and minimum felting.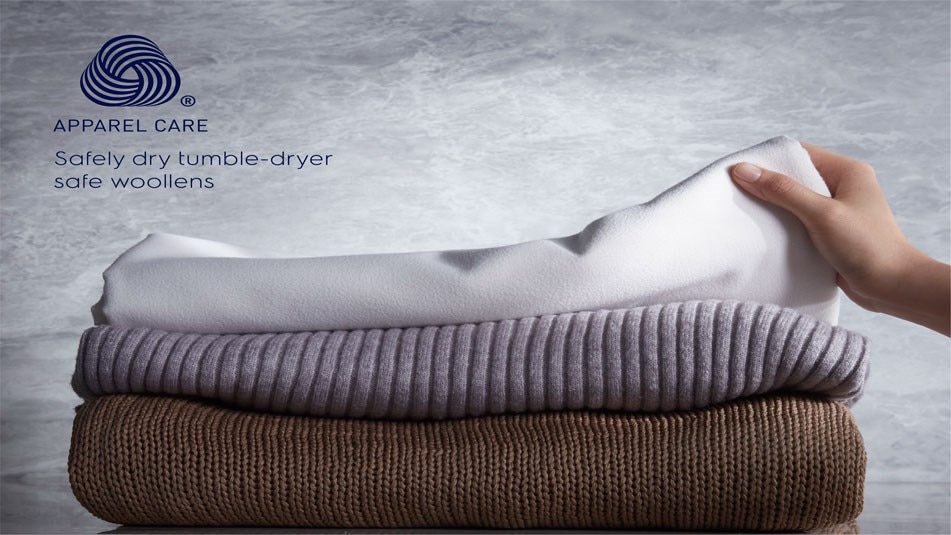 DRYING RACK FOR GENTLEST DRY
Dry woollens, shoes and soft toys on the dedicated rack without any tumbling. Your precious items are evenly dried with no shape or textural damage.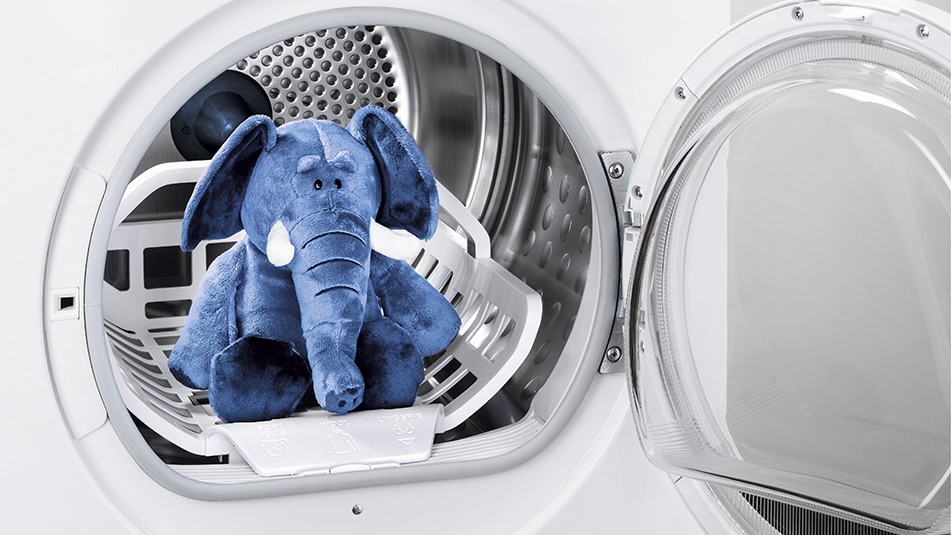 ---
SPECIFICATIONS
Capacity
Dimensions
Height – 850 mm
Width – 600 mm
Depth – 600 (maximum 659) mm
Power Supply
Voltage (V) – 220-240
Power (W) – 900
Frequency (Hz) – 50
Motor – Inverter
Features
Connectivity – N/A
Smart Sensor – Yes
Reverse Tumbling Technologi – Yes
Temperature Options – N/A
Time Drying – 10 min – 2 hrs
Dryness Selection (Sensor Dry) – 3 Level (Extra Dry,Cupboard Dry,Iron Dry)
Drying Option – Extra Silent,Reverse Plus,End Alert,Extra AntiCrease,Delat Start
Woolmark Certified Wool Program – Woolmark Blue
Clean Filter Indicator – Yes
Chlid Lock Safety – Yes,Control Panel
Door Lock – Push-to-open safety
Installation – Freestanding, Stacked
Accessories – Drying Rack
Interface and Control
Control Type – Electronic
Countdown Indicator – Yes
Delay End (hours max) – 20
Design
Body Color – White
Door – Chrome
Panel Display – IQ Touch™ with Rotary Knob and LED indicator with Time Display
Dry Programmes
Bedding+ – Yes
Cottons – Yes
Delicates – Yes
Denim – Yes
Easy Iron – Yes
Energy Saver – Yes
Favourite – Yes
Mixed+ – Yes
Refresh – Yes
Shirts – Yes
Silk – Yes
Sports – Yes
Synthetics – Yes
Wool – Yes
Performance
Installation Type
Stack with Stacking Kit – Yes
Side by Side – Yes
Tech specification