4 Button Control
4 Button Control
Thoughtfully laid out button controls for easy operation.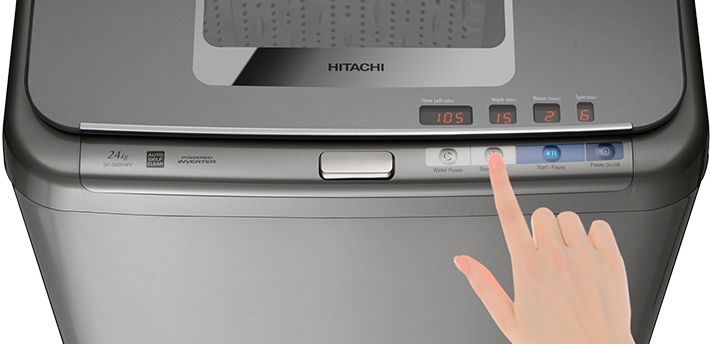 Water Power
Simply pressing the Water Power button lets you change water flow in 5 steps from powerful (2) for hard, thick items to Soft (-2)for soft, delicate items.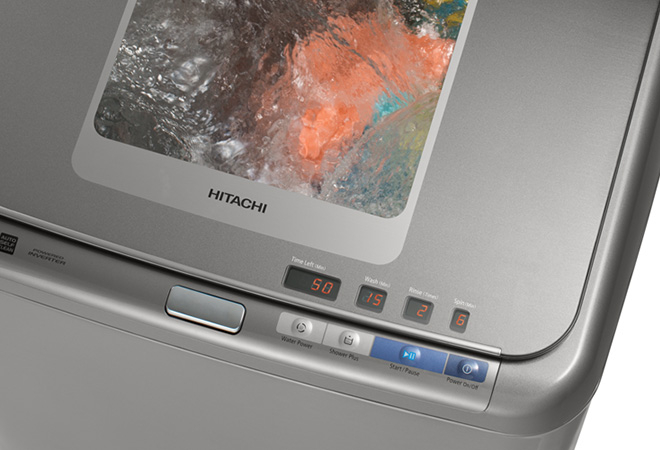 Shower Plus
You can add water as desired during a wash while looking through the glass to check. Simply press the Shower Plus button once, and the water level increases by one.
Fine Adjustment Settings
Just press the up/down buttons until the water level, wash time, number of rinses and spin time settings are as desired.
Lid Open
Auto Self Clean –
The Tub Stain Fighter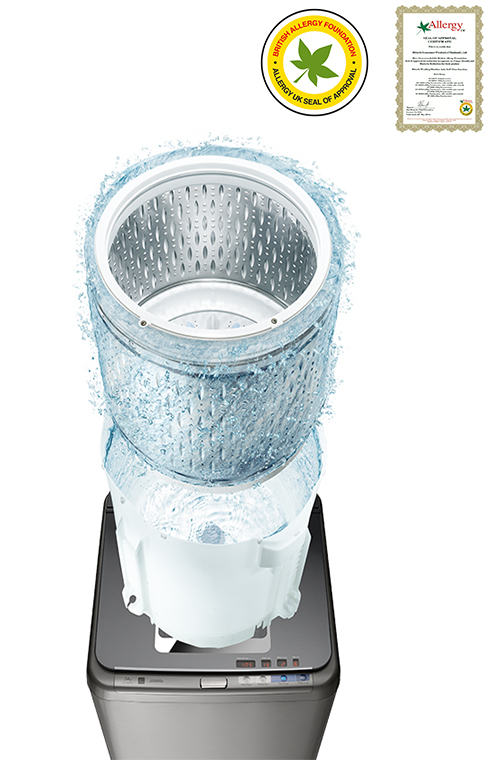 Every time you do your laundry, the washing machine automatically cleans itself!
So that you can always enjoy washing in clean tub.
Allergy UK Approved 99% Mold & Bacteria Reduction
A shower of clean water cleans both the tubs as the stainless steel tub rotates at high speeds, and the blades and tub rotate to powerfully agitate water in the stainless steel tub and clean off dirt.
These places easily get dirty!

Tub Clean & Dry Programs – More Way to Keep the Tub Clean
Regularly using two programs located in the control panel together with Auto Self Clean keeps the tub clean. Using special detergent, it removes accumulated dirt and prevents the growth of mold.
Tested by Kitasato Research Center for Environmental Science.
Test methods: Measurement of the rate of decrease of bacteria on plates attached to the outer tub and the stainless steel tub when using the Auto Self Clean function. Measurement of the rate of decrease of mold spores on culture plates attached to the outer tub and the stainless steel tub when using the Auto Self Clean function.
Ultra-Stream Shower
Large blades on the surface of the pulsator powerfully agitate the laundry ensuring detergent-rich water penetrates into clothes.
Producing powerful water circulation while reducing water consumption.
Powerful and wide showers fall on the whole surface of clothes to ensure good penetration, good removal of dirt and good rinsing results for a clean, fresh finish!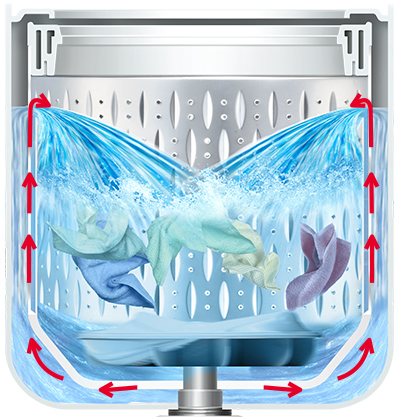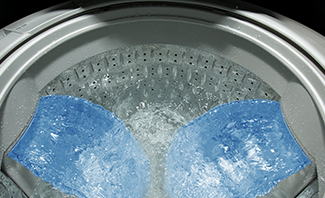 Ultra-Stream Wing
Conventional


Surprisingly Clean Results!
Mud
After Washing
Ketchup
After Washing
Coffee
After Washing
Ergonomic Glass Top Design
Flat tempered glass top makes cleaning easier. Simply push a button and glass top opens easily for lifting up. Built-in Spring and damper makes opening and closing soft and quiet.

Sensor Lock Safety System
The sensor detects if the lid is opened or closed with a lid lock.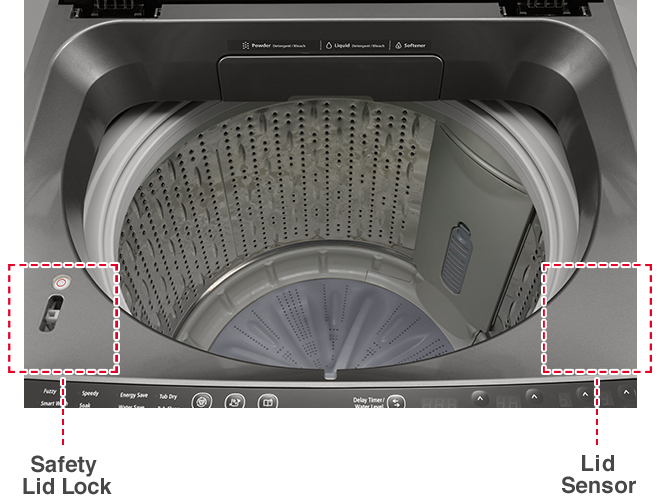 Removable, Washable,
All-in-One Detergent Drawer
Powdered detergent, liquid detergent, bleach and softener can all be put in this single drawer.
Drawer can be easily taken out and wash with water, so it's always clean.
Model
SF-180XWV
Washing Capacity (kg)
18
Inverter Control
Max. Spin Speed (r/min)
700
Auto Self Clean
Allergy UK Approval
Beat Drum
Ultra-Stream Wing
Ultra-Stream Shower
Tangle-Free Finish
Water Power Control
Shower Plus
3-Step Eco Sensor
No. of Washing Programs
11
Easy Up/Down Setting
Display
LED
Remaining Time Display
Antibacterial Lint Filter
Water Level Selector
12 levels
Selectable Soak
0.5 / 1 / 3 / 5hrs
Delay Timer
12-3hrs
Level Indicator
All-in-One Detergent Drawer
Safety Lid Lock
Lid Sensor
Auto Power Off
Auto Restart
Lid Material
Tempered Glass
Push Open Assisted Top
Energy Consumption (Wh / Cycle)
134(Fuzzy Program)
(per kg) 7.4
83(Energy Save Program)
(per kg) 4.6
Water Consumption (L / Cycle)
255(Fuzzy Program)
(per kg) 14.2
132(Water Save Program)
(per kg) 7.3
Dimensions W×H×D (mm)*
724×1,154×744
Weight (Net / Gross, kg)
67 / 73
Color
Body  Silver
Lid Dark Metallic Grey
*

Including drain hose and water supply hose.