Customise for Your Lifestyle
Selectable Zone
Flexible Selectable Zone storage lets you customise from two temperature modes based on your lifestyle and storage needs.

Time Shortening
Soft Freeze, approx. -3°C
Extra Storage for Bulk Shopping
Freezer, approx. -18°C to -20°C
Cooking Immediately Is Now a Breeze
Soft Freeze, approx. -3°C
Choose the Selectable Zone Soft Freeze setting to keep meat and fish fresh. You can easily cook them immediately without the need to defrost.
Always Ready, Easy Ice Making
Automatic Ice Maker
No more worries about stocking up ice for your favourite beverage, daily home cooking, and occasional home gatherings.
Premium Design
The sleek, refined flat doors seamlessly blend into your home interior for an elegant, harmonious look.
Energy Saving
Provides optimal cooling in both the freezer and refrigerator compartments, something a single fan cannot do. Improved Dual Fan Cooling with dedicated fans for each compartment ensures powerful cooling. This is supported by the Eco Thermo-Sensor in each compartment that detects any temperature change separately to enable the suitable temperature change to be maintained in each of the compartments at all times.
Powerful Deodorisation
Triple Power Filter
The Triple Power Filter removes odour components*1 and removes bacteria attached to the filter by 99%*2.

Onions and Garlic
Methyl Mercaptan
Big Yet Easy to Use
The often-used refrigerator compartment is positioned at the top for easy use and offers a wide field of vision. Even when a lot of food is stored, with the neat storage compartment, a glance is all you need to see everything, so it's easy to put in and take out items.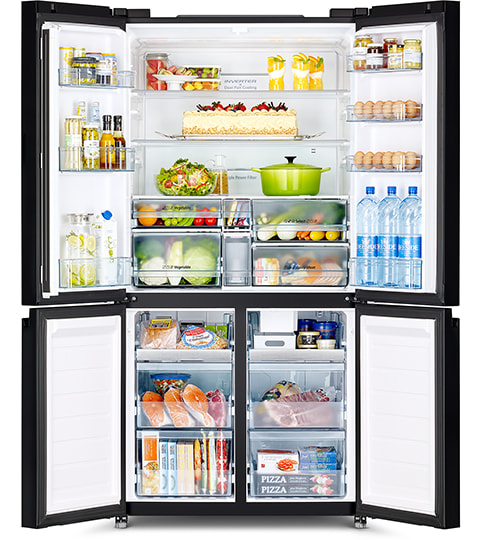 Fresh Vegetables with Organised Storage
Separate Vegetable Compartments
For long-lasting freshness, each of the cases maintains the moisture of the food at an optimal level of approximately 90%* with indirect cooling. The separate compartments in different sizes also help to easily organise various types of fruits and vegetables.
Optimal Storage
Select Case (Dry Food – Vegetable)
Select based on your storage needs. Suitable for preserving dry food or vegetables.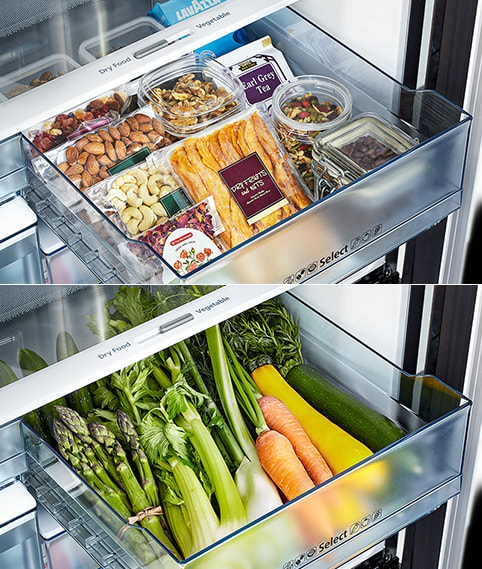 Quick Cooling
When you want to cool quickly and powerfully, switch the Quick Cooling mode ON, which cools approximately 27%* faster.
Type
French Bottom Freezer
Door
4 Door
Grade
Standard
Net Capacity (L) *1
Total:569
Refrigerator :372
Freezer:100
Selectable Zone (Soft Freeze, Freezer):97
Dimensions (mm)
Width:900
Height:1,840
Depth with Handle:720
Depth without Handle:720
Refrigerator Compartment
Chilled Case
Select Case (Dry⇔Vegetable)
Utility Case
Tempered Glass Shelves
Door Pockets
Egg Tray (28 eggs)
LED Light
Quick Cooling
Vegetable Compartment
Separate Vegetable Compartment
Freezer Compartment
Automatic Ice Maker
Drawers (2)
Slide Tray (1)
Quick Freezing
Selectable Zone
Soft Freeze, Freezer
Drawers (2)
Slide Tray (1)
General Features
Water Tank with Filter
LED Control Panel
Mouldproof Door Gasket
Energy Saving Mode
Door Alarm
Triple Power Filter
Cooling Features
INVERTER × Dual Fan Cooling
Dual Sensing Control (with Eco Thermo-Sensor)
No Frost
Refrigerant R-600a
Door Material
Glass
Colour
Glass Clear Black (GCK)