Frameless Glass Design
Add a touch of elegance to your kitchen with the new full glass frameless door design.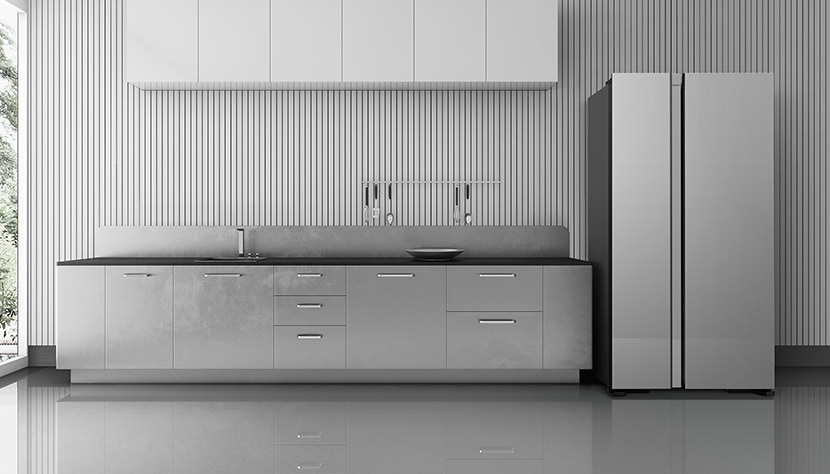 Easily Store your Food in Drawers
The drawers provide a convenient space to store and find the items at one glance.
Powerful Deodorisation
Triple Power Filter
Triple Power Filter removes odour components*1 and removes bacteria 99%.*2

Onions and Garlic
Methyl Mercaptan
Just Twist for Ice
Easy Twist Ice Maker
Just twist the lever of the ice maker, the ice can be made easily. When you want to make ice quickly, switch the Quick Freezing mode ON.
Quick Cooling
When you want to cool items quicker and more powerfully, switch the Quick Cooling mode ON. This cools items approx. 8%* faster.
Energy Saving
Provides optimum cooling in both the freezer and refrigerator compartments, something a single fan cannot do.
Improved Dual Fan Cooling with dedicated fans for each compartment ensures energy saving and powerful cooling.
This is supported by the Eco Thermo-Sensor in each compartment that detects any temperature change separately to enable the ideal temperature change to be maintained in each of the compartments at all times.
Elegant Interior Design
The Interior space of the side by side refrigerator are meticulously designed for ease and convenience. Comes with an energy saving LED light.
Tech Spec
Type
Side by side
Door
2 Door
Grade
Standard
Net Capacity (L)
Total:595
Refrigerator:369
Freezer:226
Dimensions (mm)
Width:920
Height:1,795
Depth with Handle:720
Depth without Handle:720
Refrigerator Compartment
Tempered Glass Shelves:5
Door Pockets:3
Egg Tray (14 eggs)
LED Light
Quick Cooling
Vegetable Compartment
Drawers:2
Door Pockets:1
Freezer Compartment
Twist Ice Maker
Tempered Glass Shelves:5
Drawers:2
Door Pockets:5
LED Light
Quick Freezing
General Features
LED Control Panel
Mouldproof Door Gasket
Energy Saving Mode
Door Alarm
Triple Power Filter
Cooling Features
INVERTER × Dual Fan Cooling
Dual Sensing Control (with Eco Thermo-Sensor)
No Frost
Refrigerant R-600a
Door Material
Glass (Frameless Glass Design)
Colour
Glass Black (GBK) / Glass Silver(GS)
*

Specifications and designs are subject to change without notice.

*

Colour tone of actual products may differ from those shown in this catalog.