Carbon Woofer
Pursue High Fidelity Sound
Each woofer unit is designed with a carbon diaphragm to secure excellent clarity.
AI Sound Pro
Adaptive Audio for Everything You Watch
AI Sound Pro automatically analyzes content to instantly optimize audio settings for what's playing. Catch every detail with crystal clear dialogue or more punchy powerful action, depending on the genre.
Wireless Subwoofer
Add More Power Easily
Feel the beat with the powerful LG Sound Bar SL4Y wireless subwoofer. Pumping out an extra 200 watts, it's sounds good and it's convenient to install.
Connectivity
Connect More Conveniently
Add Bluetooth® connectivity to your audio setup, or conveniently connect and play using optical or HDMI cables.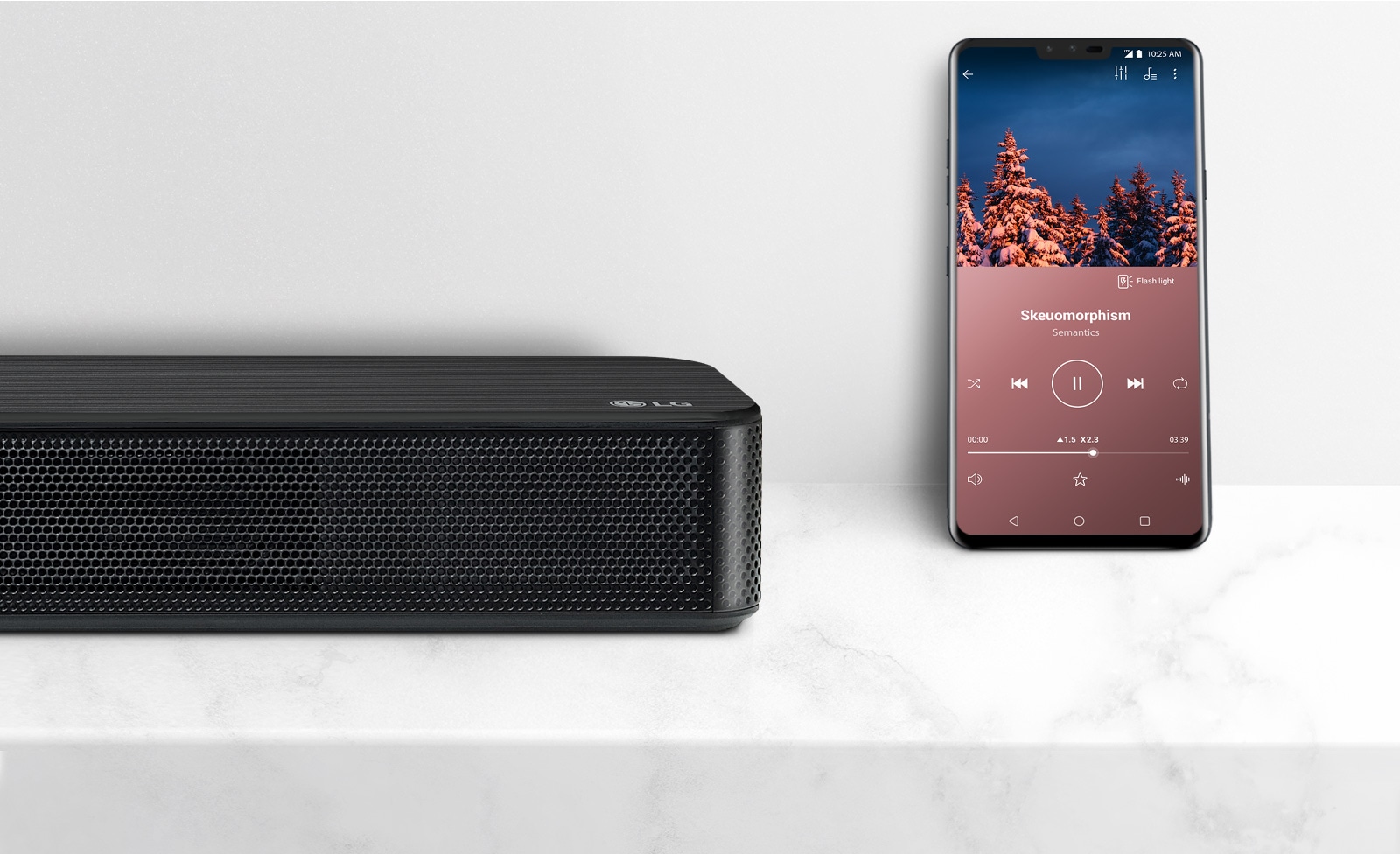 Bluetooth® Streaming
Stream Smart for Quality Sound
Stream music directly from your smartphone to LG Sound Bar SL4Y via Bluetooth®. Exceptional sound for all your music is now all within your reach.
TV Sound Sync
Sync Seamlessly
LG Sound Bar SL4 can be simply connected to your LG TV via Bluetooth® or optical. Your complete TV audio experience is ready in no time.
MODEL INFORMATION
Brand Information

Sound Bar

Model Name

SN4

Rear Speaker Model Name

No

Subwoofer Model Name

SPN4B-W

System (Main Chip)

MT8502

Mainset / Subwoofer Color

Black
SIZE(W X H X D, MM)
Main (w/ Foot )

890 x 57 x 85

Matching TV size (`20 New)

40 inch ↑

Addtional Foot (H) mm

No

Wireless Box

No

Rear Speaker

No

Subwoofer

171 x 390 x 261
MATERIAL
Main – Front / Top / Bottom

Mold Grille/Mold/Mold

Wireless Box – Front / Body

No / No

Wireless Speaker – Front / Body

No / No

Subwoofer – Front / Body

Jersey / Wood
WEIGHT(KG)
Main

2.1Kg

Wireless Box

82 Db

Rear Speaker (2EA)

No

Subwoofer

5.3Kg

Gross Weight

9.38Kg
OUTPUT POWER(THD 10%)
Total

300W

Front

50W x 2

Center

No

Surround

No

Top

No

Rear

No

Rear Top

No

Subwoofer

200W(Wireless)
SPEAKER UNIT_FRONT(L/R)
SPL

82dB

System

Closed

Tweeter Unit

No

Woofer Unit

40 x 100 mm

Impedance

4ohm
SPEAKER UNIT_CENTER
SPL

No

System

No

Tweeter Unit

No

Woofer Unit

No

Impedance

No
SPEAKER UNIT_SURROUND(SIDE)(L/R)
SPL

No

System

No

Woofer Unit

No

Impedance

No
SPEAKER UNIT_TOP(L/R)
SPL

No

System

No

Woofer Unit

No

Impedance

No
SPEAKER UNIT_REAR(L/R)
SPL

No

System

No

Woofer Unit

No

Impedance

No
SPEAKER UNIT_REAR TOP(L/R)
SPL

No

System

No

Woofer Unit

No

Impedance

No
SPEAKER UNIT_SUBWOOFER
SPL

85dB

System

Bass Reflex

Woofer Unit

6 inch

Impedance

3ohm
CONNECTIVITY_GENERAL
Audio Input (3.5Ø)

No

Optical

Yes(1)

HDMI 1.4 (HDCP 1.4) – In / Out

Yes(1) / Yes(1)

HDMI 2.1 (HDCP 2.3) – In / Out

No/No

HDR10 / HDR10+

No/No

Dolby Vision

No

USB

Yes

FM Radio

No
CONNECTIVITY_WIRELESS
Bluetooth Version

4.0

Bluetooth Codec – SBC / AAC

Yes/Yes

Wi-Fi (2.4G / 5G)

No

Wireless Rear ready

No
DISPLAY INFORMATION
Display Type

LCD (5 char.)

LED Indicator Color

No

AI Indicatior

No
HI-RESOLUTION AUDIO
Sampling – "24bit/192kHz" / "24bit/96kHz"

No / No

Upbit/upsampling – "24bit/192kHz" / "24bit/96kHz"

No / No
SOUND EFFECT
AI Sound Pro

Yes

Standard

Yes

Music

No

Bass Blast / Bass Blast +

Yes

Movie (Dolby Surround)

No

Dolby ATMOS

No

DTS:X

No

DTS Virtual:X

Yes
SOUND CONTROL
User EQ – RCU / App

Yes / Yes

Night Time On/Off – RCU / App

No / Yes

Dynamic Rage On/Off – RCU / App

No / Yes

Auto Volume Leveler On/Off – RCU / App

No / Yes

Auto Sound Engine (Default)

Yes

SFX (Default)

No

AI Room Calibration (2 MIC In) – App

No
FM RADIO SUPPORTED
Type

No

FM / RDS

No

Frequency Range

No

Station Preset

No

Preset Memory / Erase

No

Information Display (RDS – PTY, PS, CT, RT)

No
GOOGLE SUPPORTED
Google Assistant Built In (Controller, 2 MIC In)

No

Works with the Google Assistant (Controllee)

No

Chromecast

No

Google Multi Zone (One Source → Multi Speaker)

No

Google Fast Pairing

No
CONVENIENCE
Remote App – iOS / Adroid OS

No / Yes

Smart Phone File Playback

Yes

EZ setup (BLE)

No

NSU / FOTA

No / Yes

Control with your TV Remote (Vol+/-, Mute)

Yes

Sound Sync – Bluetooth(LG TV) / Optical

Yes / Yes

Auto Power On/Off – Bluetooth (LGTV) / Optical

Yes / Yes

A/V Sunc (0~300ms) – RCU / APP

No / Yes

HDMI SIMPLINK

Yes

HDMI Audio Return Channel (ARC)

Yes

HDMI Audio Return Channel (e-ARC)

No

Woofer Level (-15 ~ 6dB, 1dB/Step)

Yes

Channel Level (-6 ~ 6dB, 1dB/Step)
– Top / Center / Surround / Rear / Rear Top

No / No / No / No / No

Mute

Yes

Auto Dimmer

Yes

Sleep Timer – RCU / App

No / No

USB Host / Charge

Yes / No

Built-in Music

Yes (1)

Bluetooth Stand-By

Yes

Auto Detect (Bluetooth)

No
AUDIO FORMAT(BITSTREAM)
LPCM

Yes

Dolby Atmos

No

Dolby TrueHD

No

Dolby Digital Plus

No

Dolby Digital

Yes

DTS:X

No

DTS-HD Master Audio

No

DTS-HD High Resolution

No

DTS Digital Surround

Yes

AAC / AAC+

Yes
FILE FORMAT
FLAC – C4A / USB

No / Yes

OGG – C4A / USB

No / Yes

WAV – C4A / USB

No / Yes

MP3 – C4A / USB

No / Yes

WMA – C4A / USB

No / Yes

AAC – C4A / USB

No / No
POWER_MAIN
Adapter

25V, 1.52A

Power Off Consumption

0.5W ↓

Power Consumption

23W
POWER_REAR SPEAKER/WIRELESS BOX
Type (SMPS)

No

Power Off Consumption

No

Power Consumption

No

Wireless Frequency

No
POWER_SUBWOOFER
Type (SMPS)

100~240V, 50/60Hz

Power Off Consumption

0.5W ↓

Power Consumption

33W

Wireless Frequency

5GHz
ACCESSORY_MANUAL
Web Manual (File)

Yes (Full)

Built-in Manual (Book) (Simple or Full)

Yes (Simple)

Wall Mount Guide

No

Wireless Speaker Reset Guide

No

Open Source – Yes (Full or Simple) / No

Yes (Full)

Warranty Card

Yes
ACCESSORY_REMOTE CONTROL
Model Name

MA7 (`19)

Battery(Size)

AAA x 2

Battery Built-in

Yes
ACCESSORY_OTHERS
Rear Speaker Cable

No

Optical Cable

Yes

Wall Mount Bracket

No

Cable Management (Tie)

No

Additioanl Foot

No

FM Antenna

No