Self-cleaning Soft Action Brush

Self-cleaning Grinder

Visionary Mapping 2.0

Voice Guide
Soft & effective cleaning on hard floors
Self-cleaning Soft Action Brush
Clean any type of floor more efficiently. The Self-cleaning Soft Action Brush, made of 1.5 million fine fibers, is made with soft woven textiles, including anti-static silver. It picks up fine dust on hard floors, cleans inside crevices and reduces the amount of tangled hair (including from pets)*.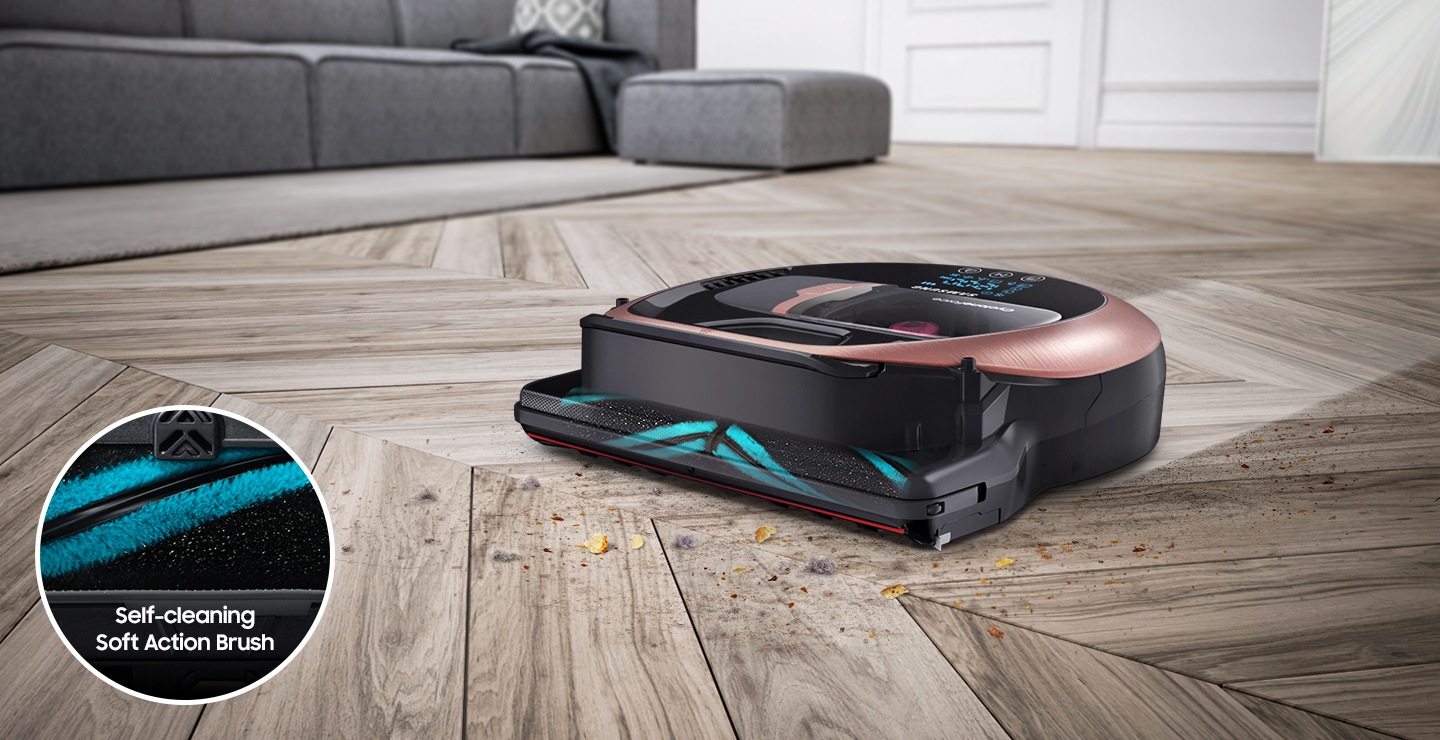 * Tested internally compared with the conventional brush of VR10F71UCAC. which measures the average amount of hair tangled after inserting 0.5g of hair 5 times.
Less dust & hair clogging up the brush*
Self-cleaning Grinder
Prevent dust and hair from clogging up the brush. Self-cleaning Grinders on the center and sides of the brush grind-up any human and pet hair that would normally get tangled around the bristles. The smaller pieces can then be easily sucked up, so you don't need to worry about pulling it out by hand.
* Tested internally compared with the conventional brush of VR10F71UCAC. which measures the average amount of hair tangled after inserting 0.5g of hair 5 times.
Accurately maps an optimal cleaning path
Visionary Mapping 2.0
Make sure your home is cleaned quickly and thoroughly. The Visionary Mapping™ system on the top finds the optimal route. Accuracy is improved by the optical sensor on the bottom and Tri Axis Gyro. It can create a detailed map, which cuts cleaning time by following a more efficient route*.
* Tested internally compared with Samsung VR10F71UCAC in a internal testing areas with furniture arranged similar to a real home setting.
Powerfully cleans hard-to-reach areas
Extra slim body, extra powerful suction*
Clean even the most hard-to-reach places much more powerfully. It is only 97mm high, which is 28% slimmer* than a conventional robot, so it can get into low areas, like under beds. It also has 40x more suction power** than conventional robot vacuums, making it as powerful as a stick vacuum***.
* Compared with Samsung POWERbot VR9000.** Tested internally on Samsung POWERbot VR7200 (Spot cleaning Mode) compared with conventional Samsung VR10F71UCAC.*** Compared with conventional Samsung VC-LSS90.
Scans the space, cleans every corner
FullView Sensor™ 2.0
Stop worrying about the robot vacuum cleaner getting stuck or leaving dirty corners. The FullView Sensor™ 2.0 precisely scans a wide area, so it knows exactly where to go and avoids even very narrow gaps and small obstacles. It also repeatedly cleans room corners with 10% more suction power*.
* Compared to Max, Normal and Quite modes.
Wi-Fi connectivity, works with the SmartThings App
Wi-Fi Control
Control the robot vacuum remotely using the SmartThings App*. You can start, stop, change suction levels, set multiple cleaning schedules, and check where it cleaned. You can also set a time when the vacuum should not clean.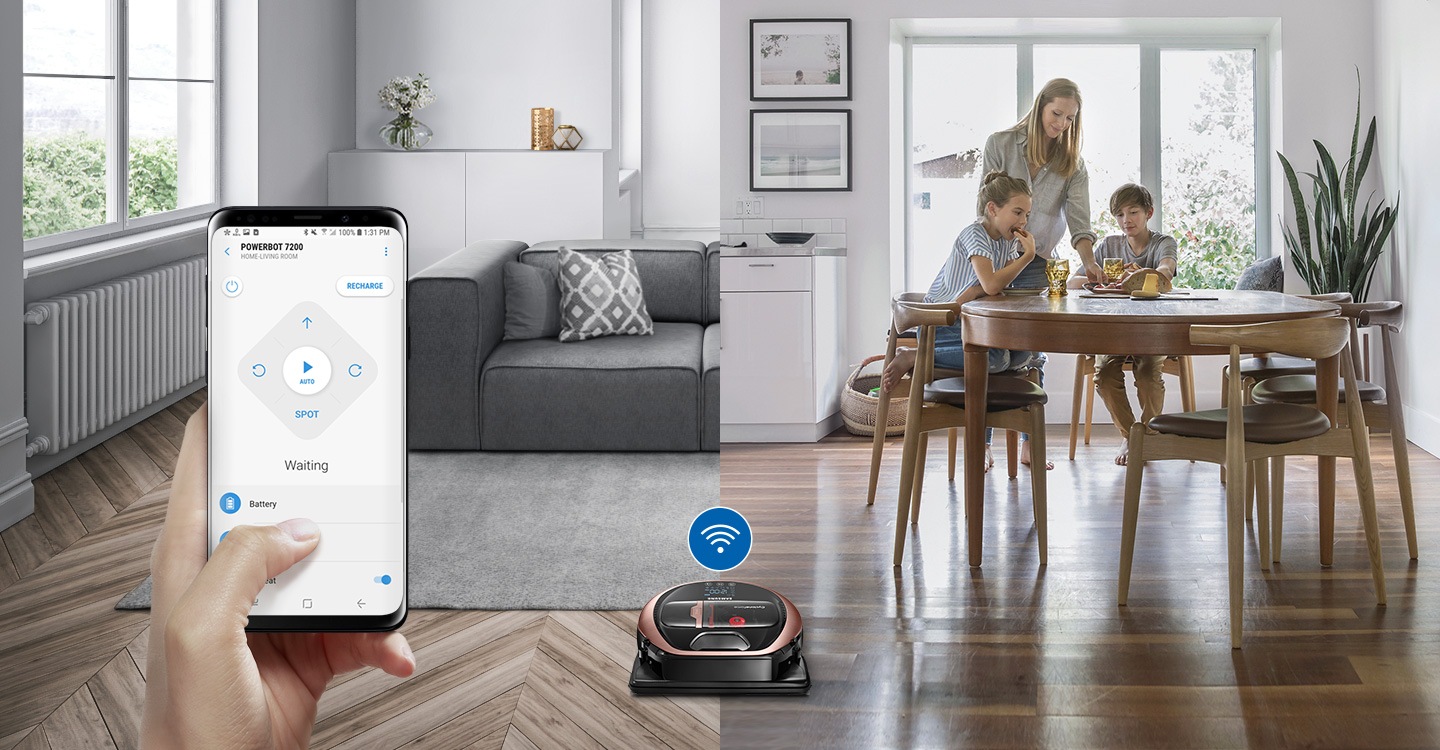 * Available on Android and iOS devices. A Wi-Fi connection is required.
Gives spoken updates on status & errors
Voice Guide
Understand what your robot vacuum cleaner is doing with spoken updates. A Voice Guide keeps you updated in a choice of 13 languages* about its status and the scheduling and cleaning modes. And it alerts you if there are any errors. But you can mute the voice or use sound effects if you prefer.
* 13 languages (Korean, English, Chinese, Dutch, French, German, Hungarian, Italian, Polish, Russian, Spanish, Swedish, Thai).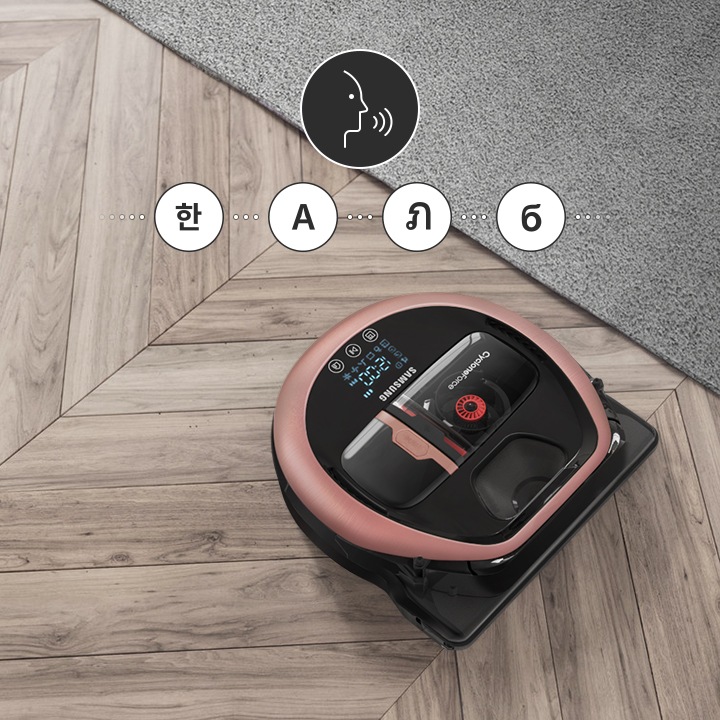 Don't miss any dust at the edge of walls
Edge Clean Master
Make sure you don't miss any dust along the edges of walls. The Edge Clean Master is designed to clean the edges of a room more thoroughly. Its bristle brush is very close to the front of the cleaner. And an Auto Shutter automatically drops down to create a barrier that helps collect more dust.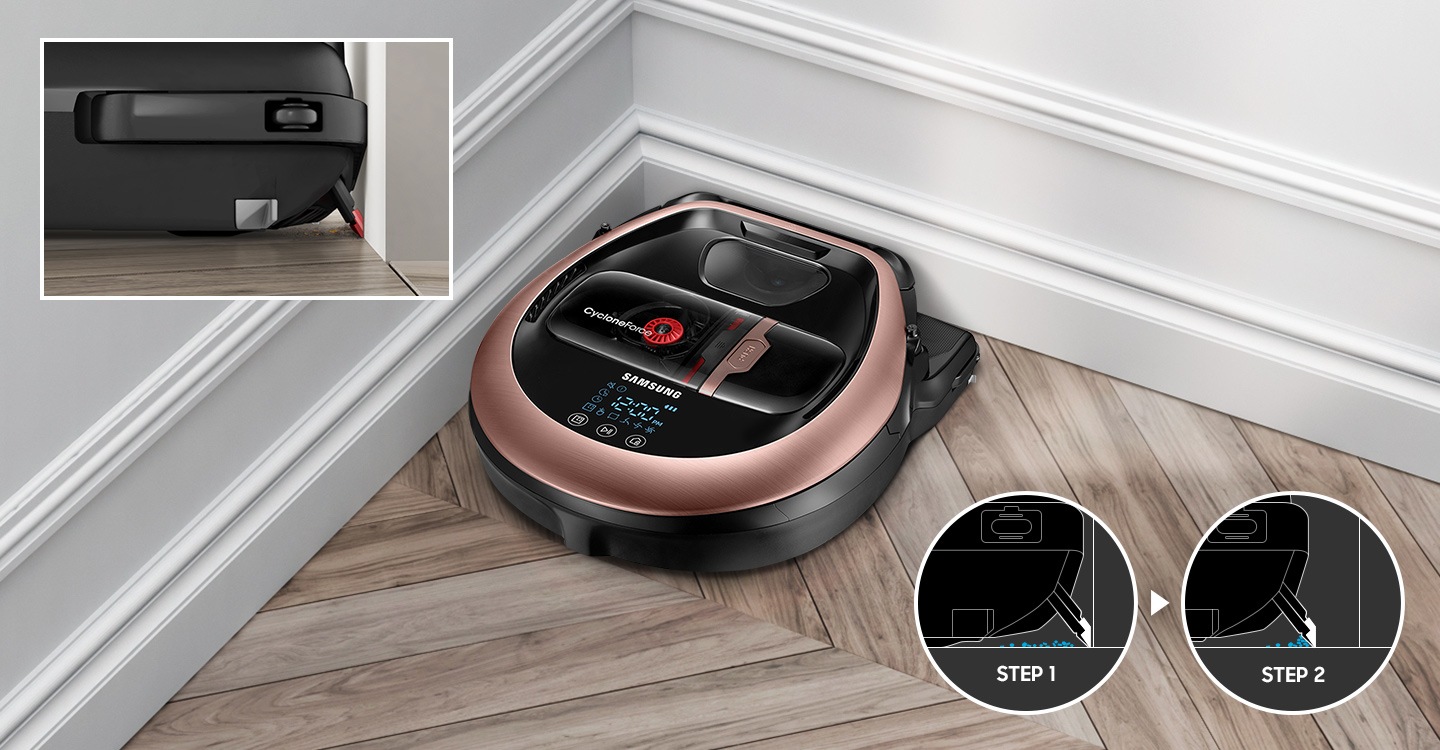 Always optimum power on different surfaces
Intelligent Power Control
Clean different floor types with the optimum suction power to ensure they are cleaned thoroughly. The Intelligent Power Control detects if it's on carpets or hard floors and automatically generates the most effective suction power. So it uses more power to suck up dust embedded deep in carpets.
Simply point & move to clean anywhere
Point Cleaning™
Move the robot vacuum cleaner whenever and wherever you want much more easily. A Point Cleaning™ system generates a guiding light that you can use to lead it to clean specific areas. Simply point the light in front of the machine and it will follow the beam and clean as it moves along the way.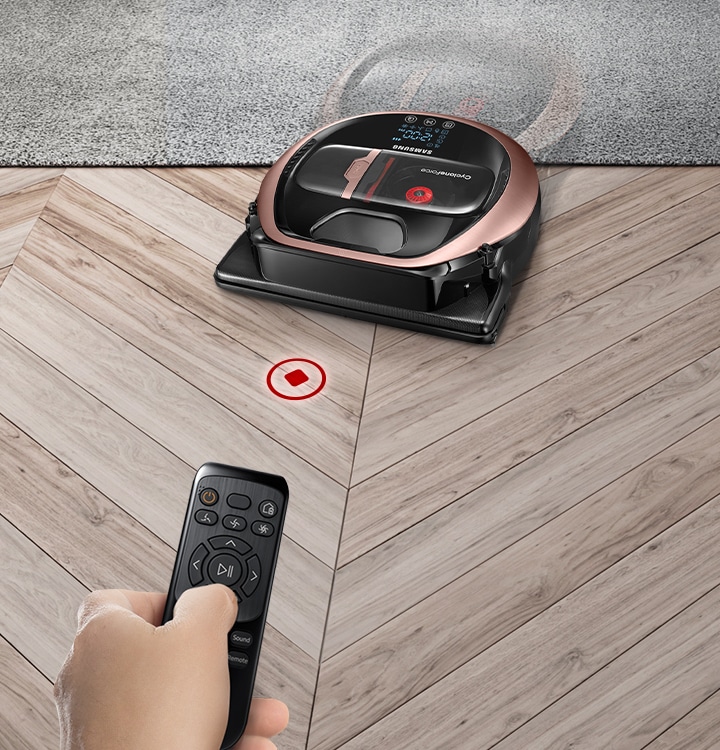 Cleans a wider area fast and efficiently
Wide Brush
Clean larger areas faster and more efficiently with the robot vacuum cleaner's Wide Brush. It has a width of 278mm, which is over 35% larger than conventional 204mm brushes. So it speeds up the cleaning process by covering a greater area with less movement in less time.
Large wheels easily overcome obstacles
Easy Pass™
Move smoothly and steadily around your home with Easy Pass™ wheels. They have a large 80mm diameter, and the body has also been raised up to 15mm. It means the robot vacuum cleaner can easily overcome most obstacles, like wires, rugs or door frames, so it keeps working while you're not there.
Never stops working – automatic charging
Automatic Charge
Stop worrying about your robot vacuum cleaner running out of power. It has an Automatic Charge function, so as soon as the battery runs low it automatically moves to the docking station to recharge itself. And once it's fully recharged it goes back to its last location and resumes cleaning.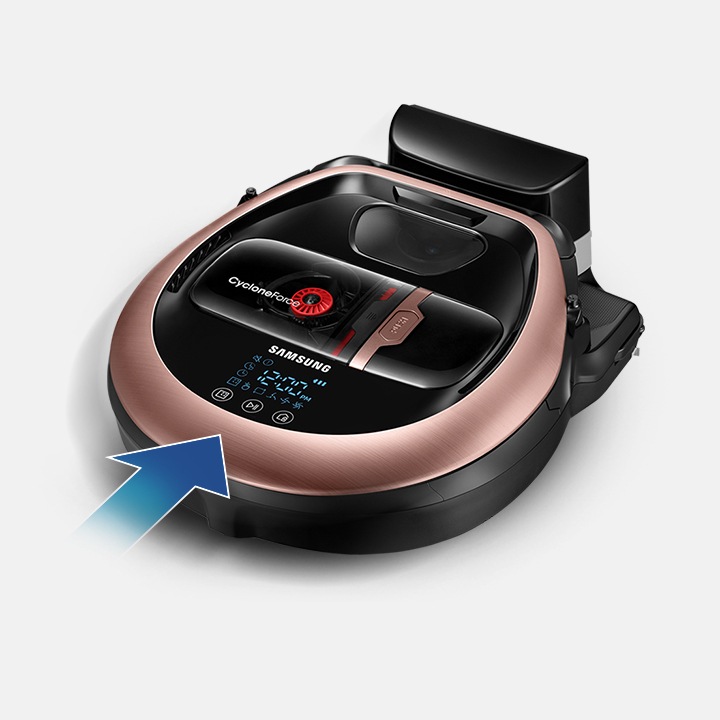 Choose how to clean in different ways
Many Cleaning Modes
Choose the best way to clean in different situations using various cleaning modes. It has 3 styles of cleaning mode, including Auto, Spot and Manual Modes*. There are also 3 types of suction control**, and scheduling modes that can be preset to vacuum up to 7 times a week, even if you're not home.
* Manual Mode is only available on VR1AM7040, VR2AM7050, VR2AM7070, VR2AM7090, VR10M702, VR10M703, VR20M705 and VR7200R series.**Suction control is only available on Auto Mode, Manual Mode.
Specifications
Max Consumption Power

130 W

Set Dimension (WxHxD)

340x97x348 mm
Specifications Detail
General Information
Cleaning Width

278 mm

Point Color

Rose Gold

Button Type

Touch

Auto-Docking

Yes

Remote Control

Yes
Performance
Cleaning Speed (m/sec)

0.32 m/sec

Cleaning Time

60/75/90 min

Recharging Time

160 min

Max Consumption Power

130 W

Charger Max Consumption Power

75 W

Noise Level

78 dBA
Brush
Main Brush 1

Self-cleaning Soft Action Brush
Robotic
Sensor

FullView Sensor™ 2.0
Cleaning Mode
Auto

Yes

Manual

Yes

Spot

Yes

Point Cleaning

Yes

Other

Repeat clean
Dust Collection
Type

Cyclone Force

Dust Capacity

0.3 ℓ
Convenience Feature
Visionnary Mapping System

Yes

Scheduling

Yes

Wi-fi Control

Yes

Edge Clean Master

Yes

Intelligent Power Control

Yes

Easy Pass

Yes
Physical specification
Set Dimension (WxHxD)

340x97x348 mm

Set Weight

4.3 kg