Extreme suction power

EZClean Dustbin & Brush

Easy Handling

CycloneForce™
Surprisingly powerful, thorough cleaning
Extreme Suction Power (2x more powerful)
Delivers suction power of 20 airwatts which is 2 times stronger than conventional models*, so it powerfully picks up dirt and hair. It's powerful 18V Lithium-Ion battery also ensures that it works for up to 80 minutes** without recharging, so you can easily clean throughout your home.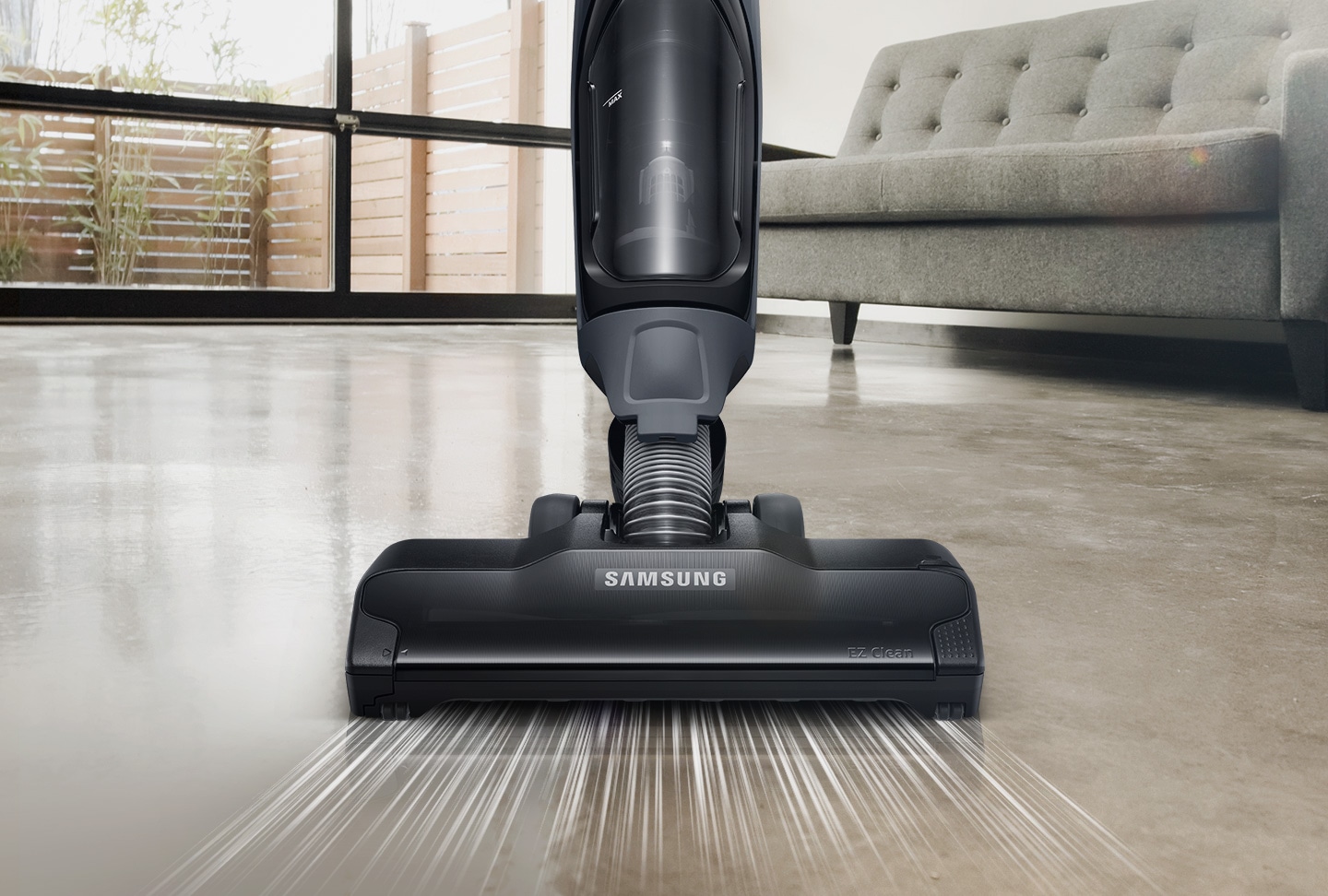 * Based on internal testing compared to the conventional Samsung VC-LSS94 in accordance with the IEC testing method. ** Using 2 batteries, which have been fully charged for X hours.
Easily & cleanly remove tangled hair
EZClean Dustbin & Brush (EZClean Technology)
EZClean Technology lets you easily and hygienically remove dust or debris, including long hairs, that may be trapped in the dustbin or rotating brush. To empty the EZClean Dustbin you simply pull a lever and tip out the contents. And the EZClean Brush can be pulled out to quickly remove any dirt.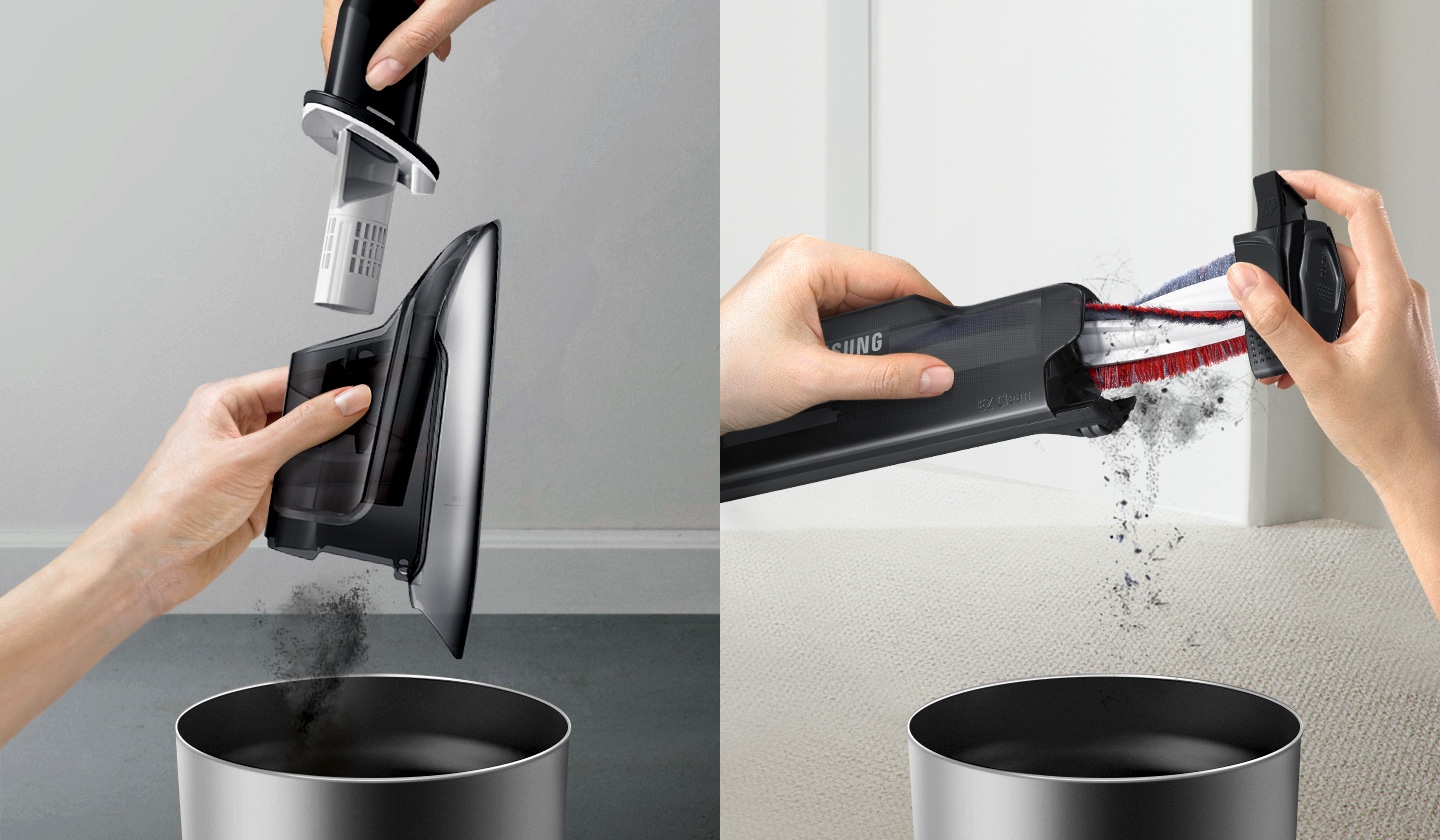 Extra agile turning, extra easy movement
Easy Handling
An Easy Handling design lets you move and clean much more easily and with little effort. The 180 degree Swivel Brush can turn swiftly and sharply around corners and obstacles, and its Big Wheels ensure a smoother and more stable motion without tipping over, as they roll steadily with minimal effort.
2-in-1 flexible cleaning for more areas
Works as a Stick it's ideal for cleaning large floor areas, but it can become a Handheld simply by lifting off the detachable cleaning pod. So it's much lighter and easier to move around, making it great for cleaning hard to reach areas.
Handheld
Long-lasting battery power with a touch
18 V Removable Power Pack Battery
A powerful 18 V Removable Power Pack Lithium-Ion battery ensures longer-lasting power, providing up to 40 minutes of cleaning time*, and is very lightweight for easier handling. It can also be replaced with one touch, so you can quickly switch to another battery and never have to pause the cleaning.
* Based on internal testing. Results may vary depending on individual use.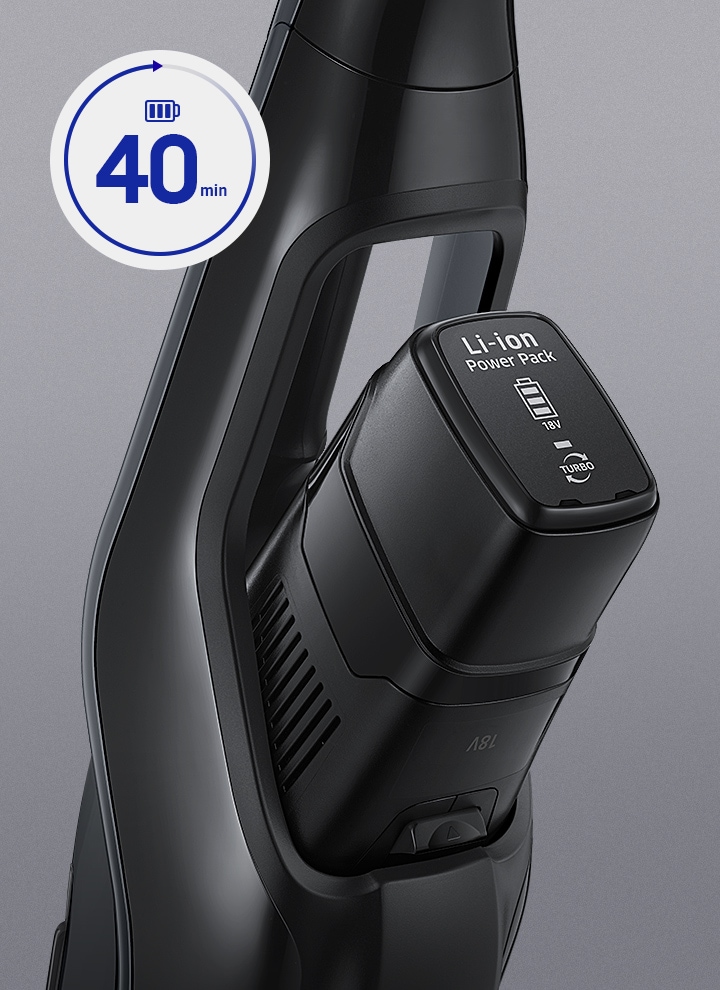 Leave it standing upright anywhere
Self-Standing
A convenient self-standing design means it can stay upright on its own without being in a cradle or leant against the wall or furniture. So if something urgent happens or you want to take a break you can leave it standing up anywhere. And it also makes it really easy to store when you've finished.
Easy to find & use built-in accessories
Built-in Accessories
Dusting and crevice cleaning accessories are built-in to the handle, so they never get lost and are easy to use. Whatever or wherever you need to clean you can quickly switch to the best tool without wasting time having to look for it or attach it – so you can enjoy fast, non-stop cleaning.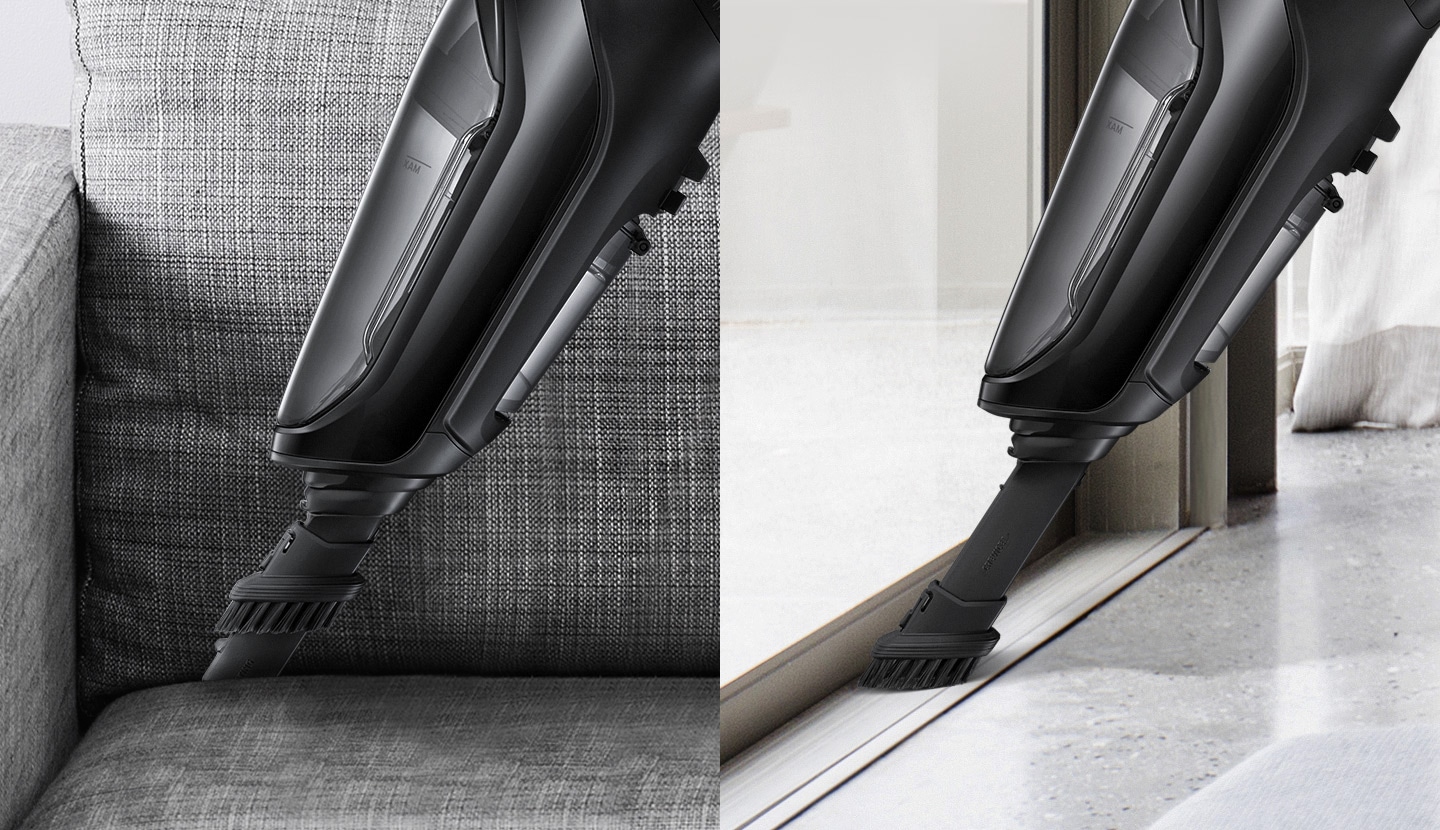 Durable & easy to clean washable filter
Durable & Washable Filter
A durable and washable sponge type foam filter captures dust and can be easily cleaned by hand with water. So it's easy to maintain the optimum cleaning performance, as a quick rinse is all it takes to prevent the filter from clogging, which ensures powerful suction that lasts – and great results*.
* Based on internal testing. Regular filter washing is required for optimal performance. Refer to the user guide for details.
Slim, light and easy to move & store
Slim & Lightweight Design
A slim and lightweight design means it's simple to control and move when you're cleaning and can be easily stored, even in a narrow space. Weighing just 2.7 kg it takes much less effort to drag and maneuver it around the home. And its slim body ensures that it can fit into much smaller storage areas.
Specifications
Max Consumption Power

120 watts
Specifications Detail
Dust Collection
Type

Cyclone Force

Dust Capacity

0.25 ℓ
Performance
Max Consumption Power

120 watts

Running Time (min)

13 minutes

Running Time (Max)

40 minutes

Noise Level

83 dBA
Battery
Battery Type

Li-ion

Voltage

18 V
Accessory
Accessory 1

2-in-1

Others

Long Crevice tool
Physical specification
Dimension

260 x 1,100 x 165 mm

Dimension (Package)

281 x 694 x 181 mm

Weight

2.7 kg