FEATURES

The Hitachi Solution for Powerful Refrigeration Plus Exceptional Energy Saving.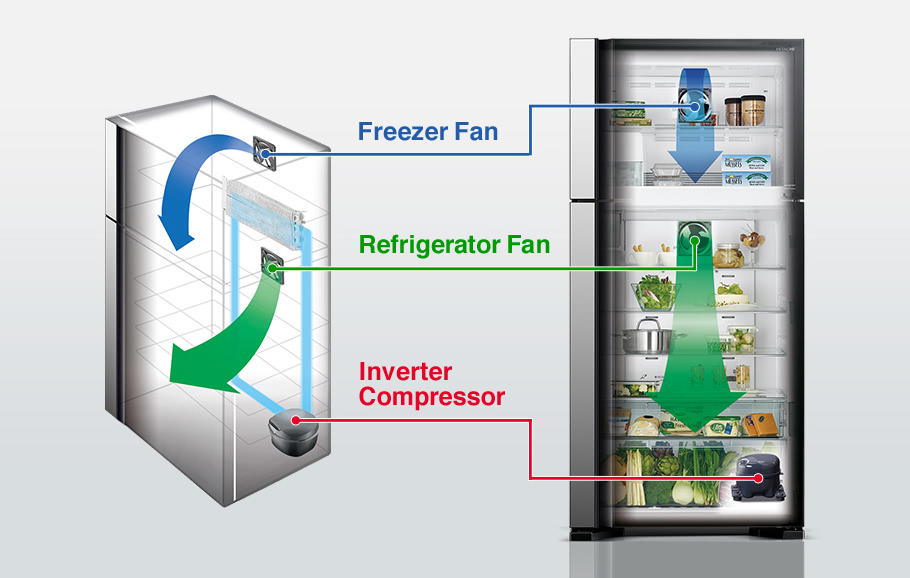 Dual Fan Cooling
Dedicated Fans for Each of the Compartments
It provides optimum cooling in both the freezer and the refrigerator compartments, something a single fan can't do. Improved Dual Fan Cooling ensures energy saving and powerful cooling, supported by the Eco Thermo-Sensor in each compartment detecting any temperature changes at all times.
High Power Inverter Compressor
Capable of providing exceptionally powerful cooling by generating a large volume of chilled air, as well as efficient low power cooling with microcomputer control.
Dual Sensing Control
Hitachi refrigerators have two Eco Thermo-Sensors, one in the freezer compartment and the other in the refrigerator compartment. The sensors detect any temperature changes separately to enable the ideal temperatures to be maintained in each of the compartments at all times.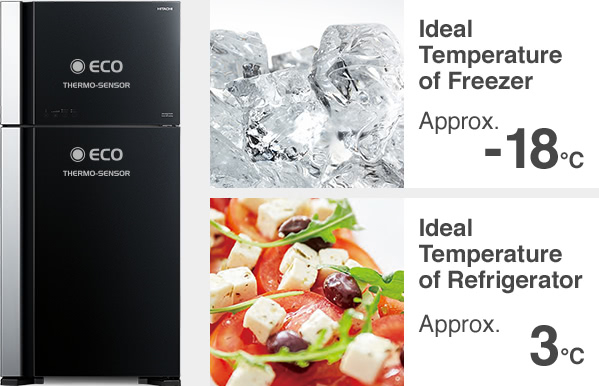 Energy Saving
Controlling how much and to which compartment chilled air is delivered, it assures no wasted energy thus helping it acquire world top class energy saving ratings.
Powerful Cooling
Even if the ambient temperature reaches as high as 60°C, every corner inside the refrigerator is still thoroughly cooled.
Cools Even at60°C*
Stabilizer Free
Even without a special stabilizer, Hitachi's inverter refrigerator can operate under wide voltage fluctuations.
Cools Under Wide
Voltage Fluctuations
130v-300v*
Long Cool Keeper
The temperature in the freezer compartment is maintained to keep food fresh in the event of a power cut.
Cooling Retention
12 Hours*
Even During Power Cut
All images are for illustrative purpose only.
Illustrated specifications are for Big2 model. Features are model specific.
Fresh Select
The Select Lever lets you adjust the inside temperature by switching between the two modes.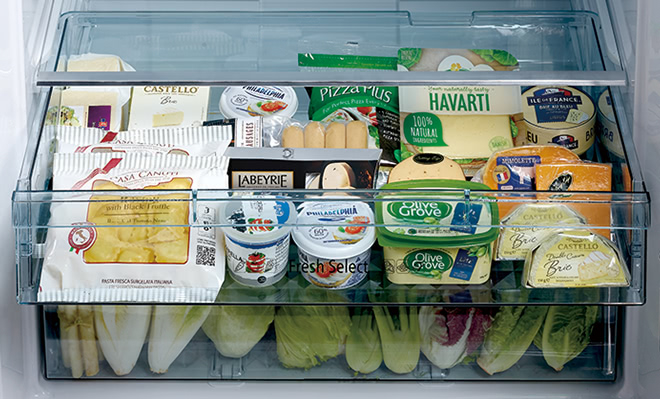 Vegetable Mode
For storage of easily damaged soft fruits and vegetables
Organizes items by size
Approx.5°C
Dairy / Meat Mode
Keeps meat and fish fresh
Thaws frozen foods
Rapidly cools drinks
Approx.1°C
Big, Moisture-Guard Vegetable Compartment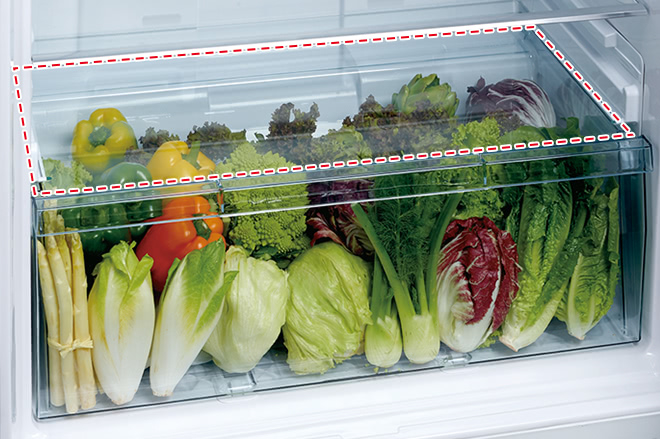 Optimum High Humidity with the Moisture-Guard
Moisture-Guard on top ensures indirect cooling to maintain the optimum moisture level on the vegetables.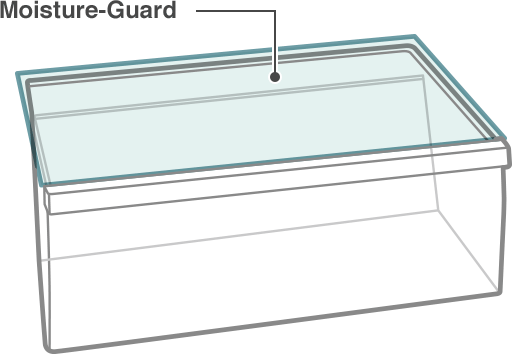 High
Humidityapprox.
92%*
Double-Deck Vegetable Storage
Select the Vegetable mode of the Fresh Select and it becomes a second storage area for vegetables, adding an extra space.
Tempered Glass Shelves
Scratch-proof and heat-resistant, the tempered glass shelves can even hold up to 100kg* each.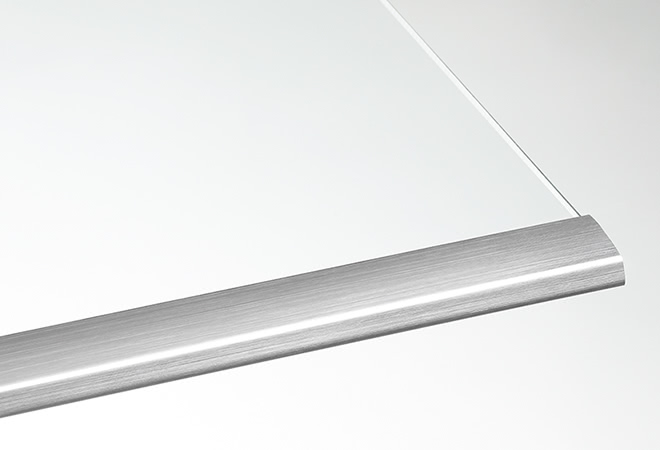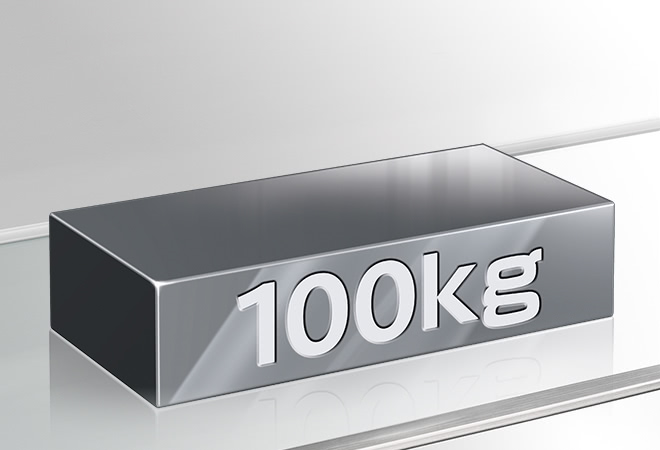 *Weight resistance of Tempered Glass. Image is for illustrative purpose only.
Adjustable Pocket
You can adjust the height of the pocket in two steps to match the items being stored, and there's enough room to store 2.0L bottles.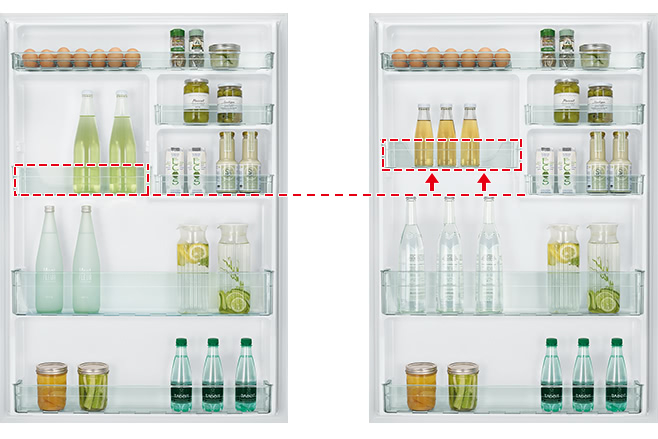 *The photo shows 550L (Net Capacity) door pockets.
Tech Spec
Top Freezer
Door
2 Door
Series
Big2
Stylish
Net Capacity (L)
Total : 550
Freezer : 145
Gross Capacity (L)
Total : 601
Freezer : 174
Dimensions (mm)
Width : 855
Height : 1835
Depth with Handle : 740
Depth without Handle : 740
INVERTER x Dual Fan Cooling
Refrigerator Compartment
Fresh Select
Tempered Glass Shelves
LED Light
Big, Moisture-Guard Vegetable Compartment
Freezer Compartment
Movable Twist Ice Tray
Quick Freezing
Tempered Glass Shelf
LED Light
General Features
Dual Sensing Control
(Eco Thermo Sensor)
Touch Screen Controller
Nano Titanium Filter
Door Alarm
Common Features
Refrigerant R-600a / CFC-Free / HFC-Free / No Frost / Moldproof Door Gasket
Color
Brilliant Silver (BSL)
Brilliant Black (BBK)
◎Specifications and designs are subject to change without notice.

◎Colour tone of actual products may differ from those shown on the websıte.